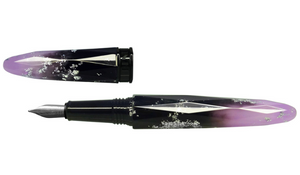 Luminous Orchid Briolette
Regular price ₱6,000.00 Sale
The Luminous Orchid fountain pen glows beautifully in a dark and semi-dark after an hour exposure to light. A sustained blue glow lasts for up to 12 hours, fading over time. The fluorescent luminous paints used in the pen are completely free from radioactivity and any potential hazards.
Long facets covering the pen's body gives the pens specific shape that prevents it from rolling and enables the true color and brilliance of the material to emerge.
Body color: Luminous Orchid
Glowing color: blue
Body material: resin
Ring material: resin
Length Capped: 13.8 cm / 5.4 inches
Weight: 19.5 gr
Cap: Screw On, the cap can not be posted
Nib: Schmidt, stainless steel, available nib width - F,M,B
Refill: Standard large international size converter or ink cartridge (72 mm / 2.8 inches ).